Mint's Christmas Message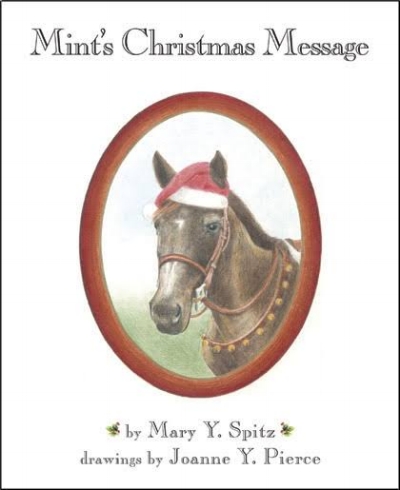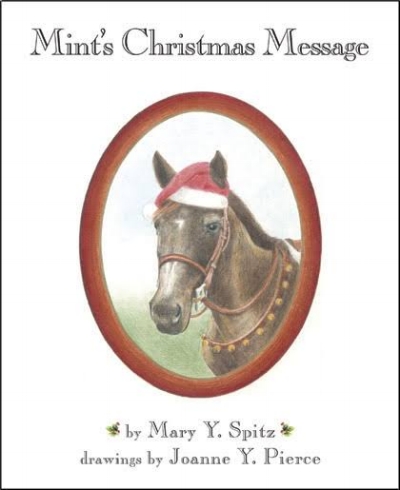 Mint's Christmas Message
On a stormy Christmas Eve, in a field of horses, Rebecca's Grandfather Tom works to save a freezing pony. After all of his attempts fail, Grandfather Tom learns a valuable lesson from the old pony. This snowy evening will forever change the heart and soul of Grandfather Tom.
About the Author: Mary Y. Spitz grew up in Port Washington, New York and was educated at George Mason University. She makes her home in Cushing, Maine and Jackson, Wyoming with her husband, daughter, their dog, and cat. This is Mrs. Spitz's first picture book for children and adults.
About the Illustrator: Joanne Y. Pierce has had a lifelong love for horses. Known for her Long Island landscapes, Ms. Pierce finds horses to be a great inspiration for her artwork. Raised in Port Washington, New York, she received a degree in Art Education from the State University of New York at New Paltz. Joanne and her family live on the east end of Long Island.
From the Publisher: We love this book because it brings together the secular aspects of Christmas—gifts, decorations, and Santa hats—with the story of Christ's birth. We think there is room for both and this beautifully illustrated parable will help children (and adults) remember put these things into perspective.
Editorial Reviews
....an unusual twist on the message of Christmas...an appealing story. -- Barb Fraze, Catholic News Service

...a powerful holiday story...A soulful story, heart-touchingly illustrated...will delight young readers the year round. -- Midwest Book Review, July 2003

A charming story for reading aloud to preschoolers or for readers about seven years and older...will entertain. -- Bookviews by Alan Caruba

I liked the beginning and the end . . . and I liked the middle. -- Claire N., age 7

I think the drawings gracefully and sensitively capture the timeless sweetness of the story. -- Dr. William B. Rhoads,Professor of Art History, SUNY New Paltz

Reminds us that some of the best art being produced today is in children's books. Genuinely heartwarming. -- The Plain Dealer

The perfect book to read with your family -- Velma Daniels, The Bookworm
Product Details:
Age Range: 4 and up
Grade Level: Preschool and up
Hardcover: 32 pages
Publisher: Mother Moose Press; First Edition (September 25, 2003)
Language: English
ISBN-10: 0972457003
ISBN-13: 978-0972457002